The early years - Regina's and Günter's path to the winery
Since 1691 the Triebaumer family has been resident in the free town of Rust. Wine and wine-growing lies in the long tradition of our family.
Both, Regina and Günter, have stroken an indirect path to take over the winery; they have done a long look around the wide wine world and have permanently enlarged their wine knowledge. As a consequence they pursue a world-open, modern and future-oriented way.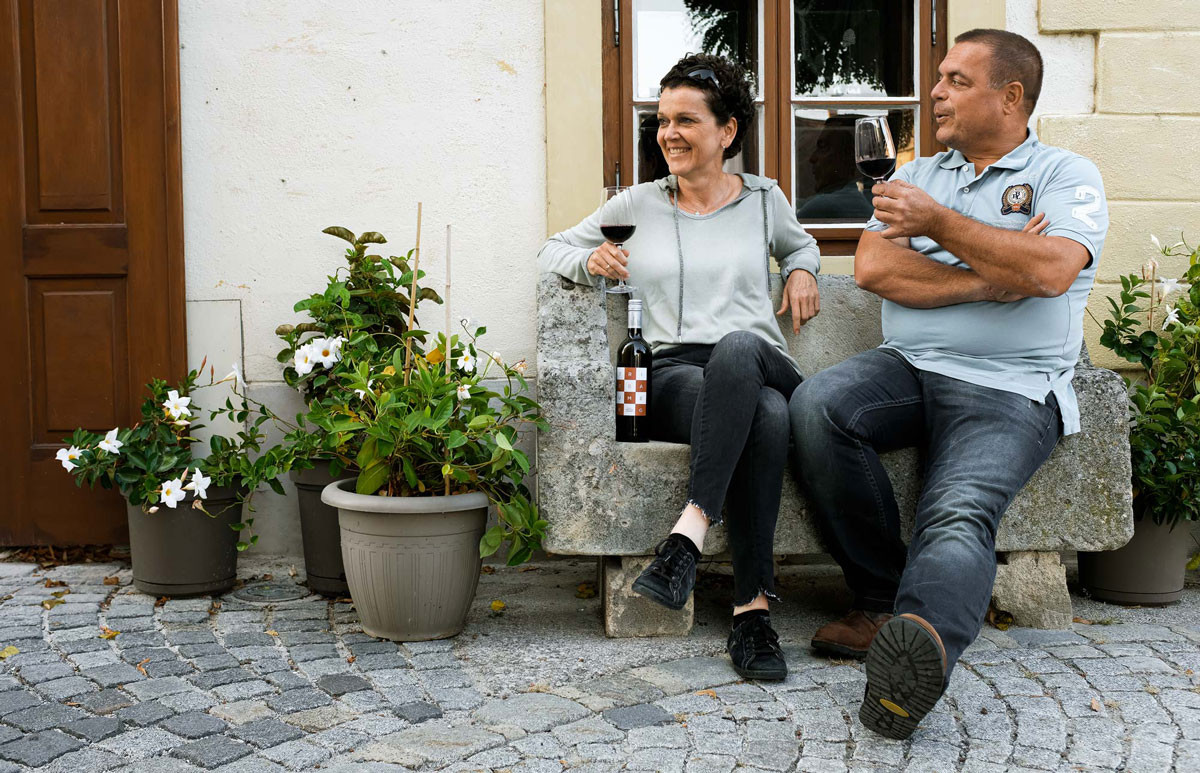 Günter's history
For Günther the existence as wine-grower has been genetically determined but refined as autodidact. As "trainee" in the family winery he relied on the experience of his parents and grandparents. But all the same on the broad spectrum of his own activities prior to taking over the winery in 2004.
While it is nowadays almost standard for young wine-growersto work as a trainee in wineries, Günter was allowed to do so as early as in 1990 - among them in South Africa. An experience which may rightly be described as a life-long broadening of his horizon.
Apart from vineyard and cellar management Günter is enthusiastic about theoretical issues which he loves to pass on as lecturer of the Austrian Wine Academy and other institutions. And sometimes just for fun.
And how should someone engaged in the wine business do without sales experience? Not so easy we would say. As longtime branch leader with Wein & Co Günter got the possibility to experience the demands of salespersons and consumers at the front line. These experiences really help us to avoid producing past the market.
Regina's history
Regina can be regarded Günter's professional counterpart and has the winery firmly under control in terms of sales, marketing and organisation. And with some pride we consider this perfect team work as basis of our success.
As open-minded member of the Gols-based wine growing family Limbeck she is an "insider" aswell. Regina likes to travel and has visited various countries around the world. After first vocational experiences in England and France she engaged, together with Dr. Josef Schuller MW, in the development of the Austrian Wine Academy with its international training program.
Subsequently wine importer VinDivino offered her a job in Chicago where she got the opportunity to get acquainted with all aspects of the international wine business. Up-to-now this is still one of the essential cornerstones of her work for the winery.
Equally important was the time with Alois Kracher. After her stay in the USA Regina has established a small but fine importing firm togeher with Luis and his family; today it's called Kracher Fine Wine.
Regina quit her last exciting and informative job at the interface between purchase and marketing with Wein & Co at the end of 2003.
Since then, Günter and Regina have done a real job of their own winery!
Graduates from the wine academy
By the way, Regina and Günter are also graduates from the Wine Academy. Regina passed the international training program at the Austrian Wine Academy in 1996 - as first student in Continental Europe with honors degree - followed by Günter in 2000, also with distinction.
From 2017 to 2020, Regina was a board member of the Alumni Club Weinakademiker. She volunteered to organize education events in Austria East/Central and took over the role of secretary for one year in parallel.