It's all about the site
From their brilliant onset on, our single vineyard wines Geyerumriss, Gillesberg, Plachen and Oberer Wald have been proverbially the talk of the town. Thus, it's high time to take a closer look on the cradle of our top wines.
All four vineyards are characterized by their enormously consistent wine quality cross all vintage-diversity. And all four comply with the most important basic requirements: low yield, most selective plant material and optimum ripening conditions - without over-ripening tendencies.
Like in Burgundy, real division of the estate has been existed in the region of today's Burgenland since the 15th century. This means that each child, no matter whether male or female, is entitled to a fair share in case of inheritance. In marked contrast to that law existed the sole claim to the hereditary title in favour of thr eldest son in the former Cisleithanic regions of Austria.
On the one hand this real division of the estate was fair, on the other hand it gave rise to a marked fragmentation of vineyards and even parcels. Despite continous efforts to enlarge our structures we handle more than fourty different vineyards (among them alone 16 Blaufränkisch sites) with certainly 100 parcels - a logistic challenge. For that reason single vineyard denominations are very special to us, leaving alone the genius loci of that sites.

The following comparison specifies the marked differences and special conditons of these four sites.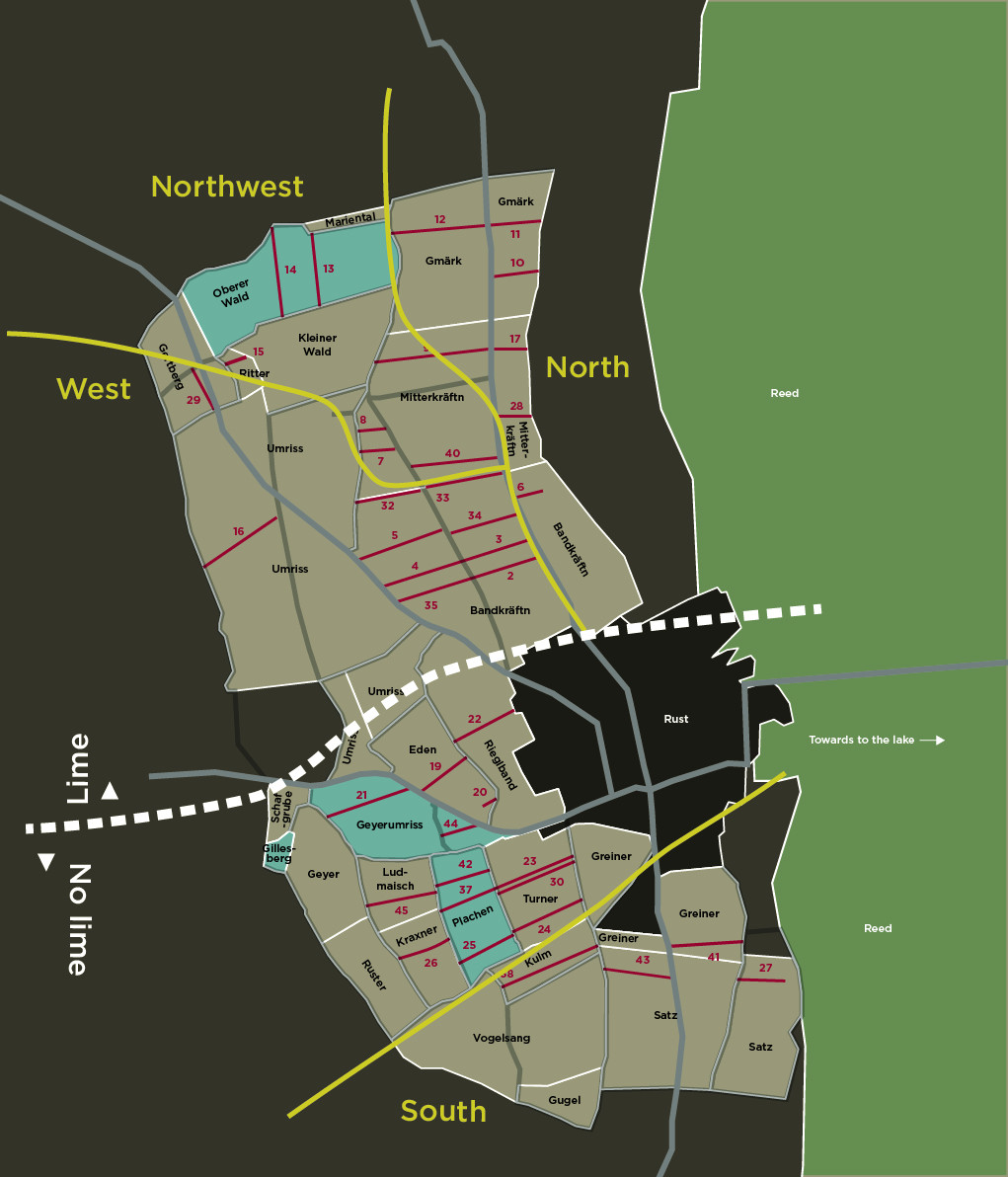 Geyerumriss
Our oldest Chardonnay vineyard from a four-generation-selection dating back to the times of the grape wine louse (approximately 1890). The origin of its name is uncertain because the vineyard nomenclature in Rust is very old.
| | |
| --- | --- |
| Cardinal direction | East |
| Soil type | Slate weathering |
| Area | 0,53 ha |
| Year of planting | 1987 |
| Characteristics | Chalk-free, particularly ripening-friendly site producing juicy white wines |
| First bottling of single vineyard wines | Vintage 2014 |
Gillesberg
The only real north-facing site of Rust promises particularly long vegetation periods and therewith guarantees that the Cabernet franc reaches physiological ripeness. Surrounded by woods and bush land, to the east towards the lake fortified by an ancient dry stone wall, the Gillesberg represents the small virtually 6th altitudinal belt within the single vineyard conglomeration of Rust. Apart from one single parcel this "darling site" already belongs to the Triebaumer family estate.
| | |
| --- | --- |
| Cardinal direction | North-north-east |
| Soil type | Pure slate weathering soil with a high percentage of stones |
| Area | 1,23 ha |
| Year of planting | 2008 |
| Characteristics | The highest site in Rust with a trigonometric point and survey stone from the times of Maria Theresa |
| First bottling of single vineyard wines | Vintage 2013 |
Plachen
Due to the marked loam layer in the upper soil of the third altitudinal belt of the greater terraces divison Plachen represents a real Blaufränkisch-island in the otherwise chalk-free site without such a loam layer. Planted with vines the Triebaumers consider as the world-best Blaufränkisch material and the mother vineyard for all new Blaufränkisch-vines.
| | |
| --- | --- |
| Cardinal direction | East |
| Soil type | Loam on silicate weathering soil without any chalk portion |
| Area | 0,7 ha |
| Year of planting | 1984 |
| Characteristics | Oldest and sole Blaufränkisch-compatible soil on a chalk-free sub-soil |
| First bottling of single vineyard wines | Vintage 2009 |
Oberer Wald
Real flag ship potential! 465 meters of straight rows (something special in Rust) and also particular due to its southward orientation. Despite its juvenile vineyards practically every year a champion with guaranteed longevity.
| | |
| --- | --- |
| Cardinal direction | South |
| Soil type | Much chalk beneath loam, skeleton-rich |
| Area | 1,7 ha |
| Year of planting | 2005/2006 |
| Characteristics | Extremely hot, scarce site, nevertheless cool fruit appearance |
| First bottling of single vineyard wines | Vintage 2009 |