Le Petit Man Sang 2019
Or: Der kleine Mann sang … ;)
Why Petit Manseng?
The explanation is simple and yet manifold.
Two "revival wines" have made us very curious about this grape variety:
2011 Petit Manseng Eiswein from the Scheiblhofer nursery
2011 Chateau Montus white (100% Petit Manseng)
The grape variety has several advantages: It is extremely thick-skinned and loose-berried and therefore absolutely rot-resistant. An ace against Botrytis! Furthermore, it ripens even later than Welschriesling and Furmint. We harvest it two weeks after the late ripening Cabernet franc, which makes the variety very interesting in times of climate change. Last but not least, Petit Manseng impresses with its extraordinary acidity potential combined with the highest physiological ripeness - and this without irrigation, as is generally the case in Rust.
This is why we replanted failed vines with Petit Manseng every few years - with its properties it can do no harm anywhere.
Petit Manseng has already been approved as a new variety in Bordeaux and is being tested in the Palatinate. In Austria, Petit Manseng is unfortunately not (yet) approved as a quality variety. Therefore, with the help of a "frenglish" trick, we have given it the witty name "Lepetit man sang - the little man sang".
In 2019, by chance, the opportunity arose to take over grapes that had been growing for years in Rust for Praedikat wines. We Triebaumers have always been solid variety pioneers, so we didn't talk for long but did it.
The first wine from 2019 is promising and unique: the first Petit Manseng without any significant residual sugar in Austria. This promises ripening potential.
All in all, this variety has a glorious future!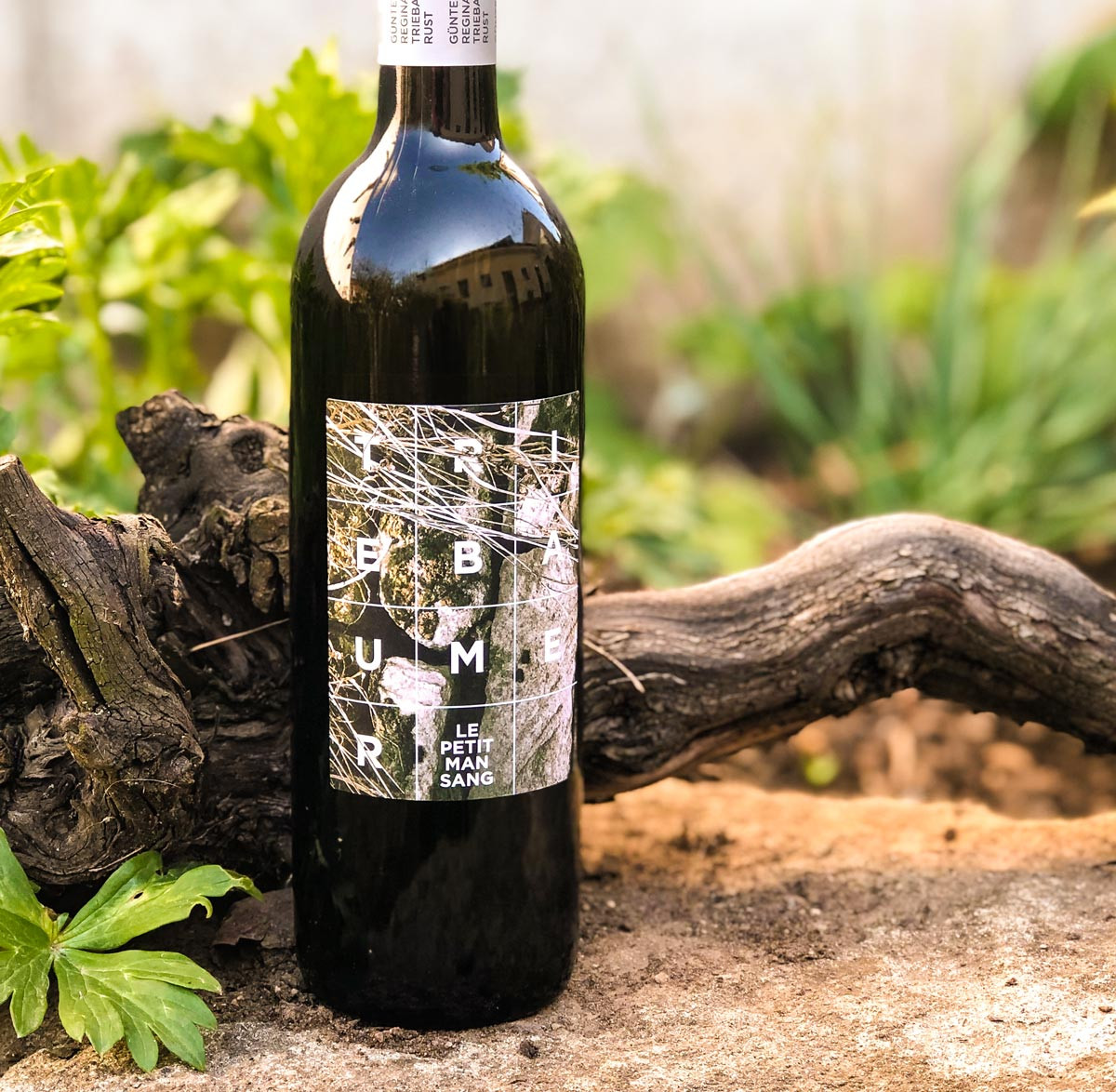 Technical Detail
Range of Varieties
100% Petit Manseng from Rust microclimate
Description
Bright straw yellow with almost neon reflections, viscosity without end.
The word "complex" was invented for this fragrance. Cinnamon, fresh honey, ripe peaches, pickled green nuts, some baking powder, ivy leaves, Taggiasca olives, fennel blossom, roast crust. Medium dry - so what! And that with good reason with this super juicy, racy acidity. Backed by a body with a mighty structure, large, broad, supple and multi-layered. A wine to chew, like a steak, to slurp, smack and enjoy, of enormous density and persistence. Beyond any convention.
Pairing
Cabbage roulades with cream and bacon au gratin, salt-butter bread with chopped macadamia nuts, baked meat and peach compote, the paprika bean soup - with bacon of course, green beans, also in a bacon coat, with Panko breaded Emmental, without bacon but with cranberries, Österkronrisotto with sage and savoy cabbage chips, strong pigeon stock with semolina dumplings, the only wine to accompany Bloody Mary, minuet and rock'n'roll!
Making
Harvest by hand in mid-October 2019 (two weeks after the late ripening Cabernet franc) in small boxes.
De-stemming, short maceration, soft pressing, fermentation in steel tanks for three months, three battonages of yeast.
| | |
| --- | --- |
| Serving temperature | Cold is cold is cold! |
| Abfüllung | 5 March 2020 |
| Alcohol | |
| Acid | 9,5 g/l |
| Residual Sugar | 12,0 g/l (semi-dry) |
| Bottle Sizes | 0,75 l und Magnum |