Making of: Ruster Ausbruch
Particularly in years with much rainfall the noble rot Botrytis cinerea occurs in a foggy late autumn. This fungus macerates the berry skins. The mild, slightly windy autumn weather favours the evaporation of the water content within the berries, and thermical conditions provide for a warming up of the water surface and cooling down of the vineyards uphill. The natural sugar content and extract rise.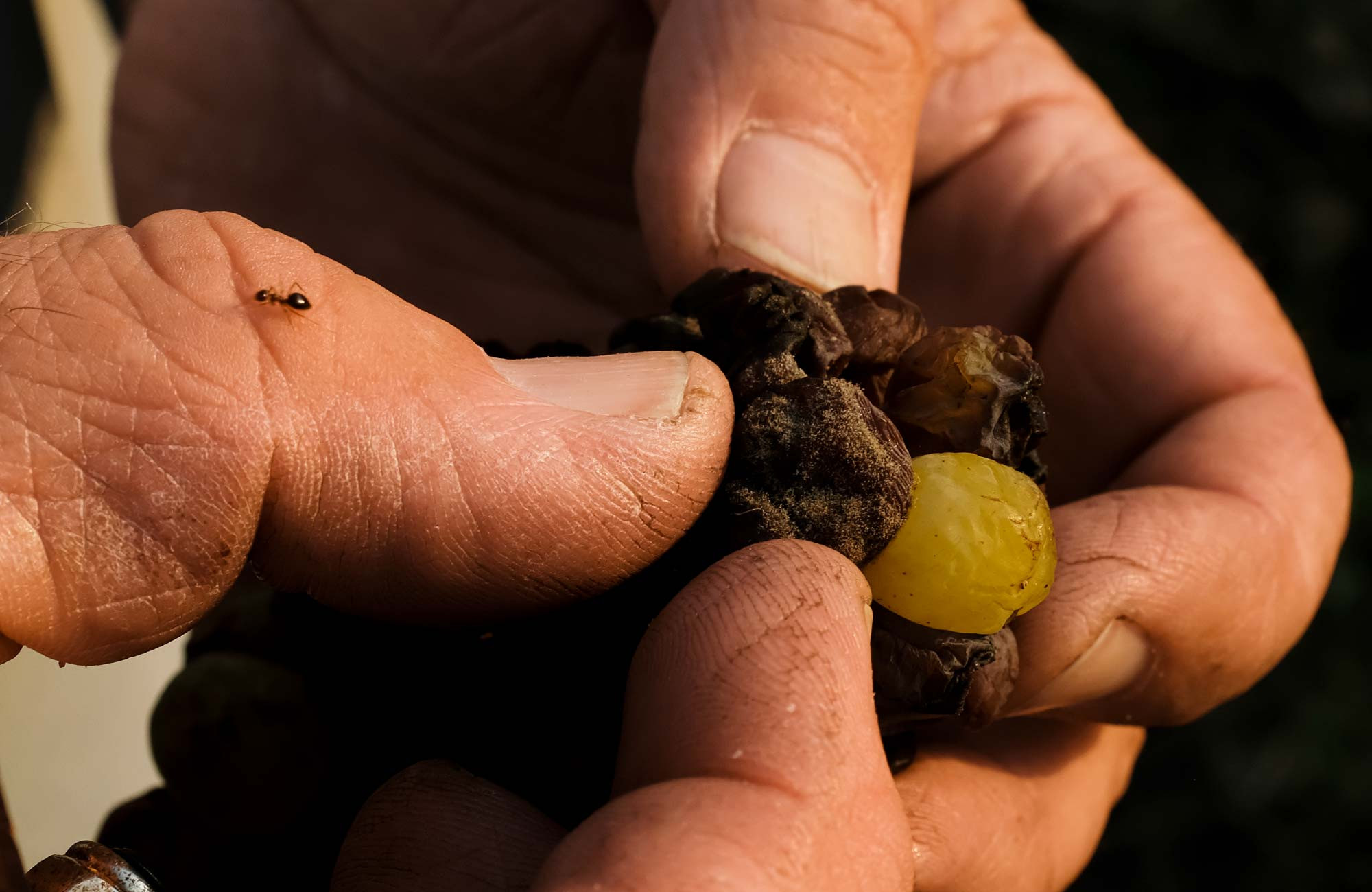 Now, selection is called for. Manually, often without the help of tools. Beerenauslese, Ausbruch! The name indicates that the dried parts of the grapes are broken out. Sweet wines of exceptional structure and finesse result. Such as it has ben tradition in Rust for many centuries and establishes wine identity.
Noble sweet wines have fruit too. Whole baskets of fruit, flower bunches and spice racks open up. Ideally Ruster Ausbruch has an initial must weight of 31 KMW and is perfectly balanced in terms of acidity, acohol and residual sugar. Since 1989 we vinificate our Ausbruch wines reductively.
The Circle Ruster Ausbruch has imposed the following conditions for Ruster Ausbruch:
a must weight of 30 KMW ( = appr. 150 Oechsle)
it has to be produced fom white grapes
it has to do without aromas derived from oxidation
Since 2015 the denomination "Ausbruch" is restricted to botrytis grapes grown in vineyards in the region of the free town of Rust and in this form incorporated in the wine law.
In the past, Ausbruch was practically squeezed in as middle child between Beerenauslese - with a KMW of minimum 25 - and Trockenbeerenauslese - with a KMW of minimum 30.
Ruster Ausbruch is much more three-dimensional and concentrated than Beerenauslese and, on the other hand, less Baroque-opulent than the classical Trockenbeerenauslese.
Being the oldest denomination of origin for Austrian wine, Günter aims at establishing the first sweet wine DAC "Ruster Ausbruch".