Liquid gold from the town of Rust
Just in time for Christmas! Regina & Günter Triebaumer present a nobly sweet wine that's fit to light up every festive table: for the first time, the passionate winegrower couple has vinified a monovarietal Ruster Ausbruch from Gelber Muskateller. The result is a true miracle of complex aromaticity, pure essence of fine fruit & vital acidity, accompanied by scents of honey & candied oranges. Ruster Ausbruch Gelber Muskateller 2018 glistens in the glass like liquid gold.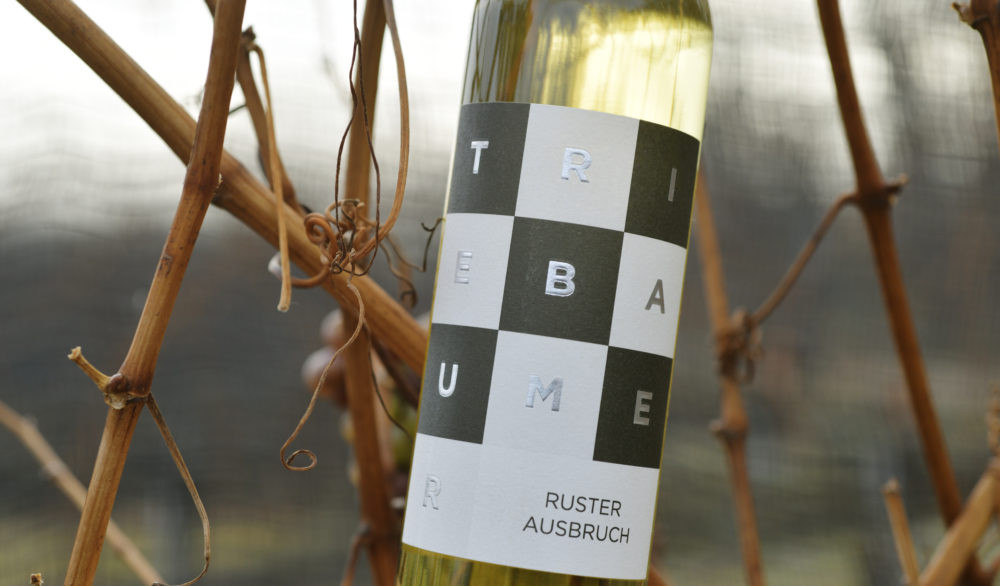 In the morning light of Lake Neusiedl: Regina & Günter Triebaumer have for the first time bottled a Ruster Ausbruch from the variety Gelber Muskateller. A memorable indigenous specialty, expressing the finest honied aromas & vital acidity. © Steve Haider
Ruster Ausbruch is one of the world's finest sweet wines and is appropriately mentioned in the same breath as Hungarian Tokaj or Sauternes from France. The traditional specialty from the Free Town of Rust, on the west bank of Lake Neusiedl, receives all due love & attention from Regina & Günter Triebaumer.
This liquid wonder of nature is made possible by the subtle interplay between microclimate, soil conditions and humidity that prevails around Lake Neusiedl. After autumn rains have fallen, the ripe berries gradually burst open, and the noble rot Botrytis cinerea begins to develop, feeding on the sweet juice that escapes. It causes the berries to shrivel into raisins, and the grape material becomes extremely concentrated. The result is a wine with a high degree of residual sugar, but at the same time a fine interplay of sweetness & acidity – along with a bewitchingly intense flavour. Since the noble rot does not occur uniformly everywhere, the grapes cannot be harvested in one pass. Instead, the parcels that are ready to be harvested are painstakingly & carefully 'broken out' by hand – hence the name Ausbruch.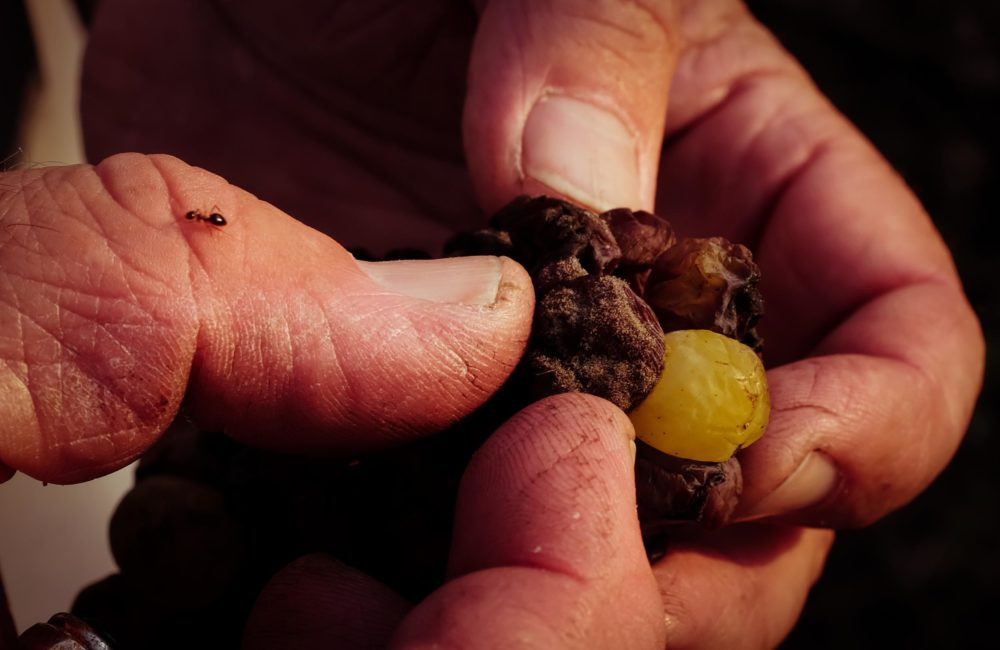 Exacting manual labour: berries infected with the noble rot Botrytis cinerea are individually 'broken out' by hand, hence the name »Ruster Ausbruch«. © Steve Haider
First Ruster Ausbruch from Gelber Muskateller
Gelber Muskateller is a highly aromatic variety when it is finished dry. Vinification of a Ruster Ausbruch from this grape has long been a recurring motif in the mind of ​​Günter Triebaumer.
'Gelber Muskateller poses a great challenge because the variety is just so stubborn, and prone to all kinds of rot in autumn. For this reason, most sweet wine winegrowers avoid this grape',

says the grower from Rust.
The joy was all the greater when Triebaumer accomplished this difficult task in 2018. The project has been in preparation for a long time: more than ten years ago, the Triebaumers planted some 2.5 hectares of vineyard with Gelber Muskateller – and in one of the best vineyard sites in Rust, namely in the »Obere Bandkräften«. Here the soil consists of an unusual mix of brown earth, weathered slate & limestone. In addition, the Obere Bandkräften is situated in the ideal spot in optimum proximity to the lake, so that the desired Botrytis develops here even in years when there is little fog. Around 1,200 bottles were filled with this extraordinary essence, which will now be on the market in time for Christmas.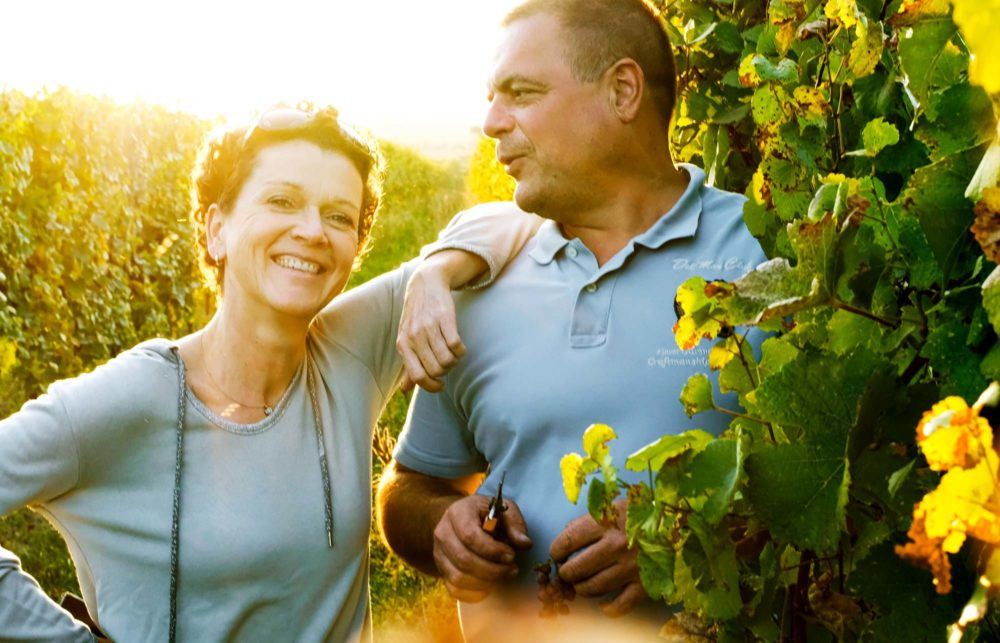 Regina & Günter Triebaumer, the passionate winegrower couple from Rust. Viticulture flows with the blood in their veins. © Steve Haider
Finest aromas, fascinating food accompanist
It is in every sense of the word a true festival wine; Gelber Muskateller yields a Ruster Ausbruch of distinctive character. 'It's not at all baroque in style or the least bit fat, but much more savoury, and rather spirited in character, with a very fine aromatic arc', enthuses Regina Triebaumer.
When it comes to sweet wine, many people think right away of serving dessert. But as a matter of fact, a glass of Ruster Ausbruch – with its combination of glisteningly clean sweetness and lively acidity – is an ideal counterpart to spicy dishes. And cheese lovers know that certain cheeses absolutely demand an element of sweetness in their vinous companion. A broad field also opens up with the recipes from the various Asian cuisines; dishes with spicy chilli, ginger, lemongrass & cumin, Thai woks or Indian curry are ideal. Anyone, though, who swears by the dessert course will still want the Ruster Ausbruch Gelber Muskateller 2018 served alongside Palatschinken (pancakes) with stewed apricots & vanilla ice cream – or perhaps with a pear tart, and not least with caramel almonds & fruit pralines, which are often served with espresso.
Cultivation of Ruster Ausbruch is one of the winegrower couple's primary passions. Every year the two produce a Ruster Ausbruch Cuvée vinified from Welschriesling, Chardonnay, Furmint & Traminer, which is always highly rated by the international press.
Freistadt Rust – the home of the Ruster Ausbruch
Ruster Ausbruch was already in great demand in the late Middle Ages, and contributed greatly to the renown of the wineproducing town. Citizens of the Free Town of Rust even owe their political independence to this treasure of their vineyards: in 1681 the citizens purchased their town charter by paying Emperor Leopold I 60,000 guilders and some 500 Eimer – (in this instance not a bucket but a measure of approximately fifty-three litres) all told around 30,000 litres – of Ruster Ausbruch from the variety Furmint. The highly prized sweet wine was also regularly served on tables of the imperial court in Vienna, and at that time, the wine from the western shore of Lake Neusiedl was already well known across Europe. Today, Ruster Ausbruch only makes up a small part of the total production of Rust – but it remains the town's marquee player thanks to its prestige and tradition.
In recognition of this special status, Ruster Ausbruch was granted the legal protection of origin DAC (Districtus Austriae Controllatus) in summer 2020. According to law, Ruster AusbruchDAC must be a Trockenbeerenauslese: a nobly sweet wine vinified from Botrytis-affected grapes with a must weight of at least 30° KMW. The wine must be bottled in Rust and be produced from grapes harvested entirely from parcels in Rust.
There is strength in calm. All around the idyllic free town of Rust, located directly on Lake Neusiedl, marvellous wines thrive & abound. Regina & Günter Triebaumer focus their efforts on Rust's traditional 'core' of Furmint, Blaufränkisch, Gelber Muskateller and the historic Ruster Ausbruch. © Steve Haider
The wine in detail
The term 'liquid gold' is by no means an exaggeration. The wine shows a brilliant golden yellow colour in the glass with imposing striations at the rim. Intense notes of the finest blossom honey rise to the nose, followed by aromas of passion fruit, yellow peach & apricot. A noble sweetness unfolds with the piquant explosive acidity on the palate; fragrant peach comes alive on the tongue. The wine shows great concentration & structure, very elegant and at the same time lively & juicy. Gradually the citrus tone so typical of Rust resonates through the ensemble of flavours. The wine is already quite enjoyable to drink, but it can also be aged in the cellar for decades, as the residual sugar gives it long life. Like most sweet wines, Ruster Ausbruch matures further and develops the finest aromas with aging. Patient connoisseurs will be rewarded with extremely subtle pleasures for extended years of cellaring.
More details about the wine can be found here!