Blaufränkisch Ried Plachen
Hardly anyone knows the vineyards of the free city of Rust in Burgenland better than Günter Triebaumer. Together with his wife Regina, he cultivates twenty-four hectares of vineyards – divided into many small parcels – on the west bank of Lake Neusiedl, working in a way that exemplifies nearness to nature. As a result, Triebaumer knows exactly which site is best suited to which breed of vine. If he seems extraordinarily enthusiastic in speaking about Ried Plachen – his only vineyard without limestone soil, where his oldest Blaufränkisch vines are growing – one can well imagine that it is indeed something special.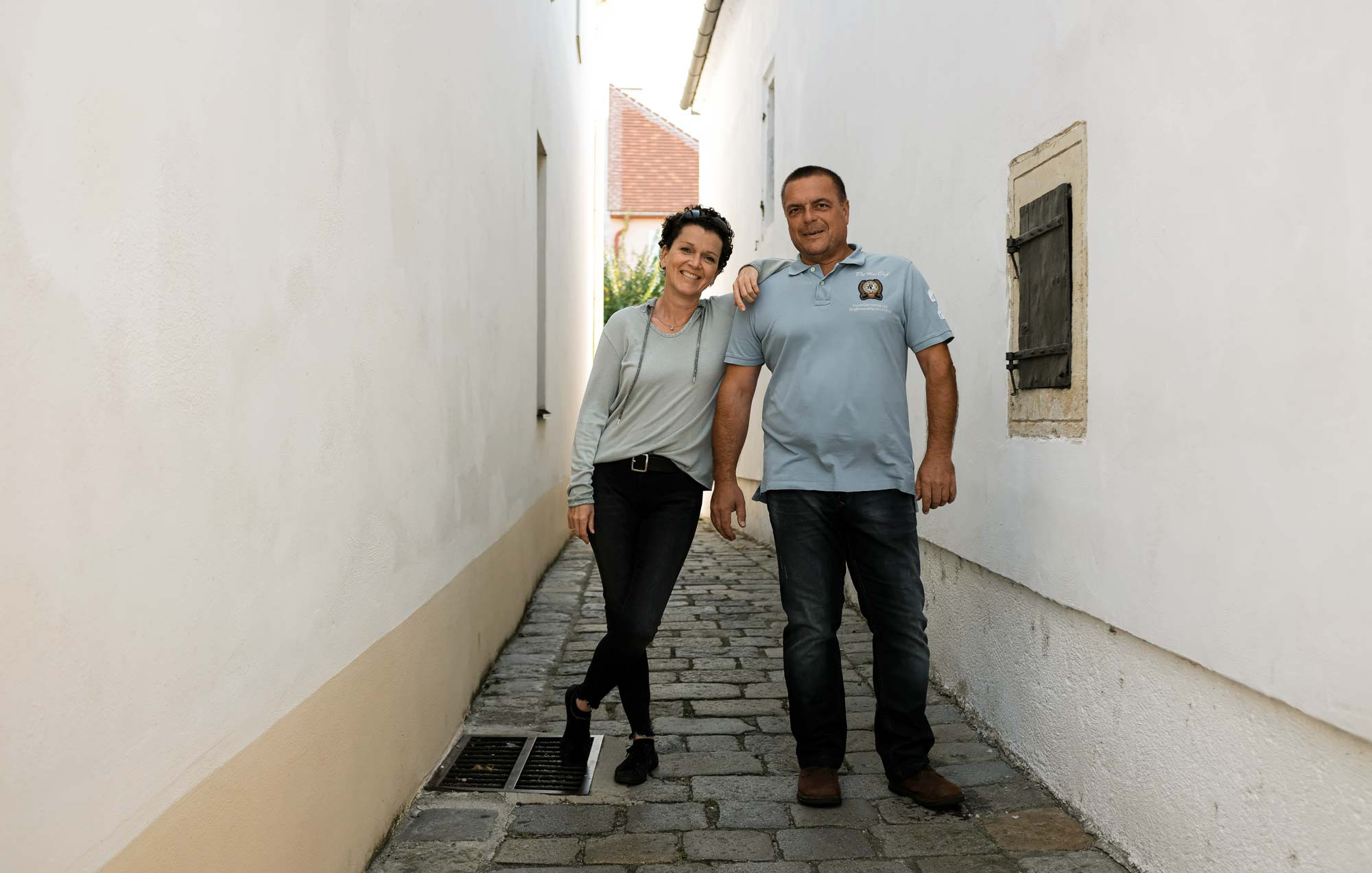 Regina and Günter Triebaumer (c) Steve Haider
The vineyard site Ried Plachen
Günter and Regina Triebaumer's avowed goal is to express the differences between the individual vineyard sites in exquisite detail in the wines. These wines, which have for years won award after award, unerringly reflect their origins in a clear and direct fashion. Blaufränkisch is a particularly talented variety for this, because it can clearly express the distinctive character of a vineyard. The sites Ried Oberer Wald, Ried Gillesberg and Ried Geyerumriss, for example, all exhibit their limestone character very clearly, and differ primarily in their varied exposures.
Plachen – unique to Rust
Blaufränkisch from Ried Plachen, on the other hand, is completely unique in being entirely free of limestone. The vines, which grow here on loamy soil with weathered silicates, are almost forty years old. According to Günter Triebaumer, Ried Plachen produces the 'world's best Blaufränkisch grapes'. The fact that Triebaumer cultivates the vineyards in a way that is so near to nature is not a concession to the spirit of the times, but rather an expression of the deep conviction and love for nature that already inspired his father Paul to practice avant-garde viticulture in his day.
Originally begun as an experiment, Günter & Regina Triebaumer bottled their first Blaufränkisch Plachen in 2009. Numerous high ratings and accolades followed immediately, rewarding the winegrowers' courage.
The four single-vineyard wines of Triebaumer: Ried Geyerumriss, Ried Gillesberg, Ried Plachen, Ried Oberer Wald (c) Plutonika
The latest Plachen
The vines were harvested in the Pannonian sunshine at the end of September 2017, then fermented for fourteen days on the skins in a steel tank and ultimately matured in 300 litre casks, of which 30% were new.
The result is a Blaufränkisch with dark purple colour and appreciable viscosity. Its aromas promise a riot of wild cherry, along with allspice, cinnamon & black tea, but with ripe nectarines and freshly roasted nuts in the mix as well. On the palate the wine presents clear minerality with a persistent fruity piquancy and a fine smokiness, crowned by an immensely persistent finish.
The three essentials of Rust
The free city of Rust enjoys a very special situation. Rust is located directly on Lake Neusiedl, which exercises a moderating influence on the continental climate. The vineyards surround Rust like an arena – the lower rows of the amphitheatre are ideal for growing sweet wines, because moisture from the lake encourages the noble botrytis. The higher elevations are dry and openly exposed to wind: here is the home of the dry Furmint and – of course – the Blaufränkisch.
So, Rust shows its three complementary core strengths!